BARE UBITX CASE FOR NEXTION 5 INCH DISPLAY BLUE WHITE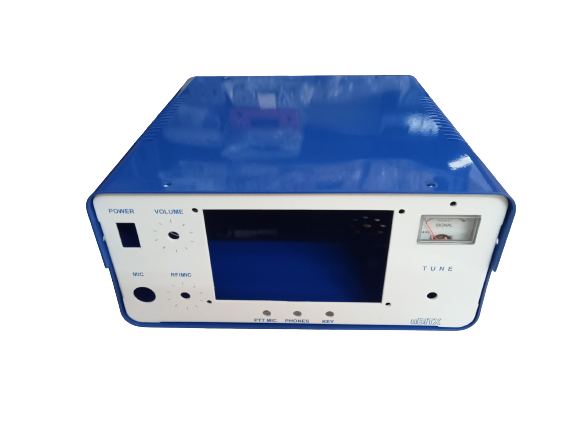 uBitx Bare Case For Nextion 5 Inch Display Blue White
Available on backorder
Description
BARE UNIVERSAL CASE FOR HAM RADIO PROJECTS WITHOUT ACCESSORIES.
 BLUE WHITE CASE FOR MICRO BITX 
DISPLAY  5 INCH NEXTION WITH VU Meter

UNIVERSAL CASE FOR UBITX HF TCVR
Without  accessories, see packing list below.
This case is suitable if you have most of the accessories in your junk box. The case can also be used for any other suitable Ham Radio Project.
 A new dynamic and compact case design for Ham Radio Projects.
The printed circuit board of UBITX HF TCVR  will fit in this case as it has been made for it specially, alternatively it also can be used for other ham radio projects which have similar size of boards.
However this case can be used for general purpose ham radio receivers, transmitters, transceivers,
Wide Variety of colors:  Maroon, Black, DA Grey, Siemens Grey, Blue
 FEATURES:
Compact Size  good for Desktop use
Case has ample ventilation for power transistors.
 SPECS FOR CASE
Aluminum  Case Bare, no other accessories
Size    length = 10 inch width = 10  inch and height = 4.3  inch
Weight  1000 grams
4. Color Blue White
Reviews (0)
Only logged in customers who have purchased this product may leave a review.
Related products